Trade Shows are For Showing Off Not Just Showing Up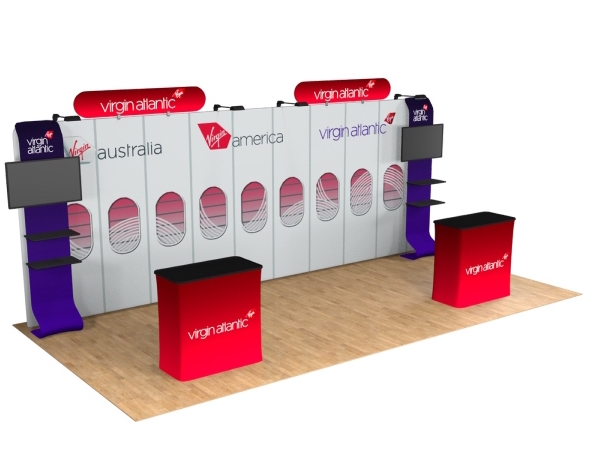 20ft QuickZip Mega MAX Trade Show Display w/ Monitor Mounts
Trade shows are among my favorite events.
Over the years, I've talked about the value of trade shows and I continue to help my clients shine when they are exhibitors. Unfortunately, not every business knows how to properly take advantage of the amazing opportunities these shows provide.
I recently attended two different trade shows and I have to say that I'm amazed at the obvious lack of planning so blatantly on display at these shows.
I walked down two aisles and there were at least 10 businesses just on those two aisles that had nothing in the way of display materials and several where not even a single person was available to field questions if anyone was tempted to stop. The only reason I would have stopped had someone been present was to see if I could help out the next time that company decided to attend a trade show.
Be A Show-Off
If you are making the effort and paying the price to be in a trade show, the whole idea is to show off not just show up. You want to stand out in some way whether it's your first or 50th show. This is the time to highlight the products and services you offer. You want to intrigue attendees and lure them to at least ask questions. Otherwise, what's the point of being there?
If your "booth" consists of a table with a catalog sitting on it with no one in the booth to talk to, how many people do you think are going to stop by? I'll tell you. Exactly zero.
Fall brings a new round of trade shows in many industries. If you've signed on and paid your fee to be an exhibitor, don't miss the opportunity to shine. Don't be one of those sad businesses that go completely unnoticed. Every business has something to show off. Call my office. Let my company help your company.
Understated or Interactive Create Buzz
You might think it's impossible to compete with the big corporations that have the latest gadgets and most awesome state-of-the-art displays. That can be overwhelming if you are a small company. But believe me, you can create buzz with small gestures too.
At Gossett Marketing, we provide everything that can make your business stand out in a crowd, from booth design to apparel for your team. We can help you come up with ideas and then we can execute those ideas.
We have created successful booths that whisper and booths that shout. We have created wildly successful low-tech and high tech booths. We've created interactive booths, one included VR headsets so the attendees could take a tour of the company's newest features. We create graphic banners – large, medium and small — produced as a dye-sublimated process that really shows off the 4-color graphics. We provide photographic quality, pop-up tabletop booths, brochures and promotional give-aways.
We also provide apparel to make sure your team stands out. This year, bright vibrant colors are key. You can provide a different color for team members to wear each day. And for some real buzz let us help you create a great promotional give-away item that tells your story and keeps you top of mind with clients and prospects.
Are You Ready To Show Off?
We're ready to help you prepare for trade show season. The question is, are you ready to show off and not just show up? If the answer is yes, give me a call!