Thoughts About Giving Thanks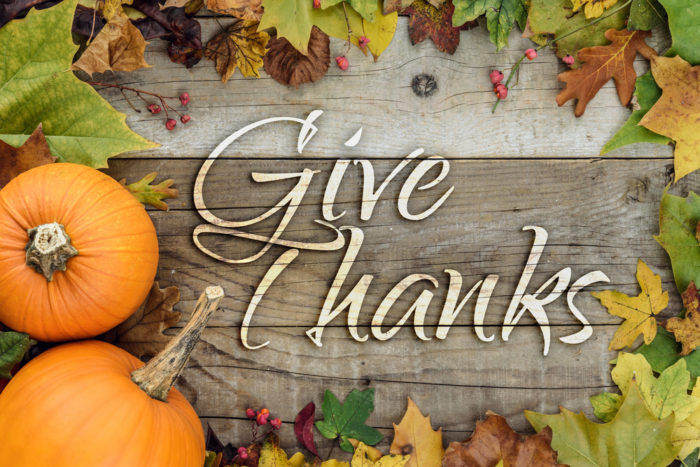 How do you show appreciation?
From coolers to coloring books, wireless chargers to noise-cancelling headphones, there are thousands of fun, interesting and novel gifts that let you say "thanks" to your employees, clients, prospects and vendors. From blue-tooth earbuds to pad-folios, from cozy blankets to gourmet snacks delivered at the right time with the right message can help create and build loyalty and good feelings. And, sometimes, there is nothing as powerful as a perfectly timed verbal expression of gratitude that comes from the heart.
I've pulled together a list of inspiring thoughts about thanks and gratitude that I enjoy. I hope you enjoy them too. And, whenever you would like to express your gratitude in the form of a great promotional gift item, please give us a call. We're always here and happy to help.
What Some Wise People Say About Gratitude
"Feeling gratitude and not expressing it is like wrapping a present and not giving it." –William Arthur Ward
"Be thankful for what you have; you'll end up having more. If you concentrate on what you don't have, you will never, ever have enough." –Oprah Winfrey
"No one who achieves success does so without acknowledging the help of others. The wise and confident acknowledge this help with gratitude." –Alfred North Whitehead
"We would worry less if we praised more. Thanksgiving is the enemy of discontent and dissatisfaction." –H.A. Ironside
"The way to develop the best that is in a person is by appreciation and encouragement." –Charles Schwab
"No duty is more urgent than that of returning thanks". Unknown
"Let us be grateful to people who make us happy; they are the charming gardeners who make our souls blossom."–Marcel Proust
"Silent gratitude isn't very much use to anyone." –Gertrude Stein
"If the only prayer you ever say in your entire life is thank you, it will be enough." –Meister Eckhart
"As we express our gratitude, we must never forget that the highest appreciation is not to utter words, but to live by them." –John F. Kennedy
"Develop an attitude of gratitude, and give thanks for everything that happens to you, knowing that every step forward is a step toward achieving something bigger and better than your current situation." –Brian Tracy
"Gratitude is the most exquisite form of courtesy." –Jacques Maritain
"At times our own light goes out and is rekindled by a spark from another person. Each of us has cause to think with deep gratitude of those who have lighted the flame within us." –Albert Schweitzer
"When a person doesn't have gratitude, something is missing in his or her humanity." –Elie Wiesel
"Acknowledging the good that you already have in your life is the foundation for all abundance." –Eckhart Tolle
"Make it a habit to tell people thank you. To express your appreciation, sincerely and without the expectation of anything in return. Truly appreciate those around you, and you'll soon find many others around you. Truly appreciate life, and you'll find that you have more of it." –Ralph Marston
"Appreciation is a wonderful thing: It makes what is excellent in others belong to us as well." –Voltaire
"'Thank you' is the best prayer that anyone could say. I say that one a lot. Thank you expresses extreme gratitude, humility, understanding." –Alice Walker
Thank You
It's been a beautiful year at Gossett Marketing, and I would like to extend sincere thanks to all who have made it so. To all of those on my team that make it all possible, I thank you from the bottom of my heart. To my clients that have trusted me, many for a dozen years and more, I am so deeply grateful for your trust and your business. To the vendors who pull things together for us to meet our clients' needs, we couldn't do it without you. Thank you!
May you all and all of your loved ones have a blessed and beautiful Thanksgiving Holiday.