This Holiday Season Impress From The Outside In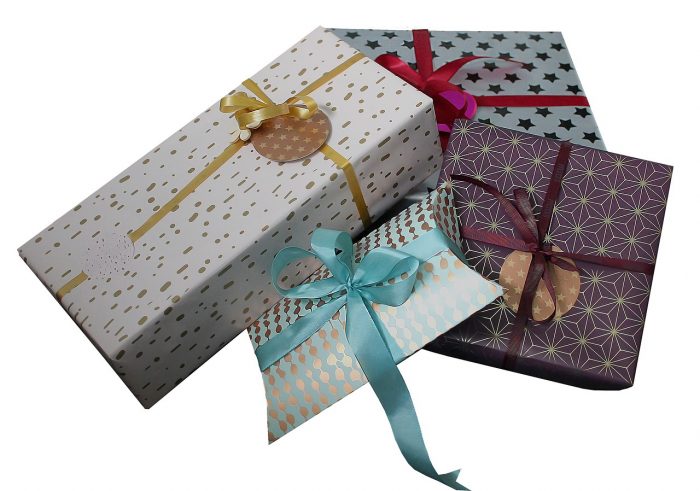 Who doesn't love to unwrap an attractive boxed or wrapped gift?
It could literally be anything inside and if it's something you love as much as the wrapping, you're in luck! So, what I'm talking about today as we begin to turn our thoughts to the holiday gift giving season is packaging.
The Magic Of Powerful Brand Gift Packaging
If I say, "Tiffany's" what comes to mind? For many people, they will think of the classic robin's-egg blue box from the store on Fifth Avenue in New York City. That little blue box has become an icon of packaging the world over. It creates excitement and holds the promise that something very special is inside. And rarely does that Tiffany box get tossed out. It is almost as cherished as the gift itself.
Make Your Packaging Compelling
I have nothing against a gift basket, but, why not go the extra mile and make your holiday gift more unexpected, unusual and totally engaging? It's really not all that difficult. This holiday season think about impressing your gift recipients from the outside in with compelling packaging. And, of course, the gift must be meaningful too.
Before you dive in, there are a few things to consider. First of all, you packaging must be brand appropriate. If you do not own a jewelry store, a delicate blue box may not communicate the correct image. Whatever product or service you provide, you must stay true to your brand. Secondly, consider eco-friendly packaging options. This day and age, eco-friendly is popular and could be compelling in and of itself. Thirdly, why not make the packaging part of the experience? Think "Apple" on this one. With Apple, their packaging adds to every experience.
Exciting Gift Packaging Ideas To Spark The Imagination
We are already working on some pretty exciting holiday gift packaging options for some of our clients. Yes, it's true. We are just starting the month of August and some of our clients are already in production on their holiday gifts. So, don't drag your feet. A good idea and a great price need time to be birthed.
Here are a couple of examples of some packaging ideas we are currently developing for clients.
One of our corporate clients asked us to create a customized box to hold a gift card. This one is very upscale and speaks to the importance of the recipient.
For one of our university clients, we are developing a custom 4-color-process box that will be used as a welcome kit for incoming University students. The box will hold a folder with all the incoming students' information for getting settled, a duffle bag, notebook and pen. This box sports a fun "college" specific design.
Compelling Doesn't Mean Expensive
Don't let budget prevent you from considering compelling packaging. We can create great logo'd gift bags and tissue paper. A simple design and/or a few clever words could make an impressive gift and an unforgettable brand statement.
If you really want to impress with a gift, package it in a nice gift box. The box can be logo'd or just say 'Thank You'. Today, you can even personalize the foam insert around your gift.
There's simply no good reason not to give a gift that is going to impress those who receive it while further establishing your brand at the same time. So, give us a call and let us help you impress this holiday season.