Hanukkah, Kwanza & Christmas In July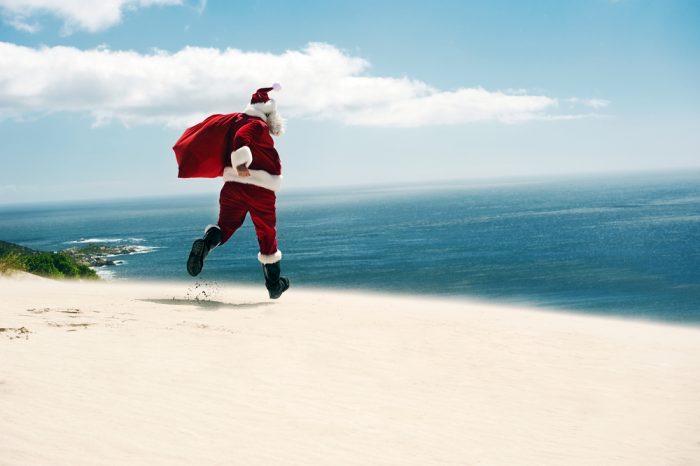 I used to live in New York City. Way back in the day, there was an electronics store called Crazy Eddie's. He was the first retailer I knew of that held 'Christmas in July' sales. And, boy was he busy!
I'm not proposing you hold a promotion for any one of those holidays in July. I'm simply proposing that you start thinking about your Fall and Winter season promotions now. What could be more fun and productive than fantasizing about cooler weather and cooler ways to promote your business during the hottest time of the year?
We are on the slippery downward slope to the end of the year already and before you know it, the holidays will be behind us!
So while it may seem a little counter-intuitive to start thinking holiday promotions now, you may actually miss the boat if you don't start now.
'Tis the Season to Think Jolly
A virtual parade of holidays and promotional opportunities begins with Labor Day coming up in a month and a half. Talk Like a Pirate Day falls on September 19th. After that, October brings Breast Cancer Awareness Month, Columbus Day, Bosses Day, World Mental Health Day, National Nut Day and Halloween. November brings two major opportunities with Veteran's Day and Thanksgiving. Of course, if it works you might want to leverage National Pizza Day! Then there's the big hoopla of Hanukkah, Christmas, Kwanza, and whatever other tradition you like in December. And right on the heels of all that comes the New Year!
Whether you launch a back-to-school, back to business or back to reality promotion mid-August to early September, this is a great way to get your name in front of your clients and prospects.
Of course, any promotion must be appropriate for your business. Believe me, there are occasions and holidays that may not be appropriate for some businesses to run a promotion. You need to be careful with anything to do with alcohol. Many businesses frown upon promoting drinking and you need to ensure your promotion doesn't jeopardize your relationship with your client (while some revel in the opportunity — think Cinco de Mayo!).
Next in the line-up comes Halloween. This is one of those holidays that everyone can jump in on. While historically speaking Halloween began as a religious observance, it has evolved into a celebration completely devoid of religious meaning. Halloween is one of my favorite holidays because it falls on my birthday! (No gifts, please!) I love to thank my clients each year by delivering creative treats to them on or around Halloween, depending on the day on which it falls.
You too can treat your clients to stand out with clever sweets and other items, hand-delivered to make an impact. When the message is well thought out and appropriate, it will make you unforgettable.
When November rolls around most people think of the two most popular promotional opportunities of Veteran's Day and Thanksgiving. Many of my clients have begun to use Thanksgiving to stand out with their clients by delivering their holiday gifts at the beginning of the season rather than waiting until December. This way their gifts are first to arrive and don't get lost in a flurry of indistinguishable gifts that arrive in succession.
Try Something New This Year
Maybe you stick to the same promotions year after year. If that works for you, you may be firm in your decision not to change. However, you might be a little adventurous and explore a new opportunity to get your name in front of your clients and prospects in an unexpected way. You never know, it could prove to be more productive and profitable than you could have imagined. That's the beauty of giving your imagination free reign during the slow summer months. You could come up with something really cool. If you'd like a little help stimulating your thought process, don't hesitate to give us a call.